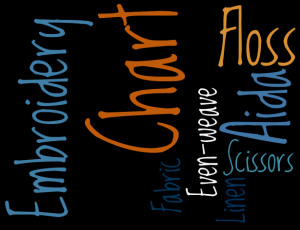 If you are new to cross stitch you may have a bit of a learning curve when it comes to specific terms and equipment. We gathered up the most common ones and put them all in one place!
Beads
Used to enhance cross stitch designs. Mill Hill Glass Beads are a good choice since there is a large choice of several types of beads and colors.
This is an example of their seed beads in aqua/blue.

To see what sizes and shapes Mill Hill beads come in follow this link: http://www.millhillbeads.com/index2.php.
Chart holders and line-minder magnets
Chart holders and line-minder magnets are used to hold and protect your chart as well as keep your place as you stitch.
H-K Free-Standing Magnetic Board – 14″ x 11″ with attached base
SAR Prop-It Needlework Chart Holder – closes flat to 8″ x 11″. Includes separate magnetic board and magnets
LoRan Magnetic Board – 8″ x 10″ – comes with magnet strips
Assorted Strip Magnets by Yarn Tree – (3″, 4″, 6″, and 7″). Work great on magnet boards.
Cleaning your project
Experts recommend that you clean your cross-stitch project after completion (especially if it is a large project). Use only cold or lukewarm water. A mild soap such as Ivory can be used, or special products are made especially for this purpose such as Treasure Wash by Cottage Mills or FabricCare. If you can't find these products, they can be ordered online.
Counted even-weave designs
These are designs created to be used on even-weave fabrics. The design is charted on a grid indicating where the stitches should be placed on the fabric. This is different than designs printed or stamped on fabrics.
Cross stitch designs
Cross stitch designs are available in books, as individual charts and in kits. There are many beautiful individual charts available online, both by mail order or download. Designs sold as kits (these include the fabric, floss and design chart) are considerably more expensive. Some stitchers prefer kits because everything is included, other stitchers prefer to choose the stitch count of the fabric, and the type of fabric and thread. Many times stitchers have a collection of floss colors from previous projects and only need to add a few new colors for the design, so the floss that comes with the kit is an unnecessary expense. You also pay for the labor of assembling the kits and postage.
Types of Embroidery floss
DMC is the most popular and available of all the flosses.
DMC Floss:six-strand cotton floss available in 455 colors.
DMC Novelty flosses: Color Variations (blend of soft multicolors), Variegated (distinct variegated colors), Light Effects (adds extra bling), Metallic (gold and silver), Satin (adds beauty and sheen).
Most counted stitch designs use DMC colors but a conversion chart is available for Anchor floss.
Anchor Floss: six-strand cotton floss available in 460 colors.
Sullivans Cross Stitch Floss: six-strand cotton floss available in 454 colors – pre-washed
Kreinik Blending Filament: can be used by itself or combined with other yarns, to create random highlighting effects
Specialty Floss: There are several specialty flosses available – hand dyed, different textures, etc. You can find information on these at needlework shops or online.
Embroidery floss holders
There are several methods on the market for controlling and storing floss. The most popular one seems to be the floss bobbin stored in numeric order in a compartmentalized plastic box. Both DMC and Darice make plastic and cardboard bobbins to wrap the floss on. Annie's Keepers System is another product for organizing floss as is the Floss-Away System where the floss is kept in 3″x5″ plastic bags.
Even-weave fabrics
Even-weave fabrics come in many types, colors and thread counts.
Aida Fabric: available in several colors and counts (11, 14, 16, 18)
Mono Deluxe Canvas: single vertical and horizontal threads (not interlocked), flexible, counts (13, 14, 18), several colors.
Congress Cloth: fine-meshed, 24 count, great for petit point and miniature designs, several colors.
Hardanger: 22 count, several colors
Belfast Linen: 32 count, several colors
Cashel Linen: 28 count, several colors
Dublin Linen: 25 count, limited colors
Edinburgh Linen: 36 count, limited colors
Etamin: 26 count, limited colors
Floba: 25 count, color – Oatmeal
Jasmin: 20 count
Jasmin-Floba: 20 count
Jobelan: 25, 28 count, limited colors
Lugana: 20, 25, 28, 32 count, several colors
Wichelt Linen: 18, 28, 32 count, several colors
Finishing accessories
Stitchery Tape – double-sided tape for mounting needlework to mat board, foam board or stretcher bars. It is acid- and solvent-free archival quality, does not damage fabric and can be repositioned for up to 48 hours.
Grid marking
Easy Count Guideline by R&S Designs is a 100% nylon thread that reduces counting time and can speed stitching time up to a third. Remains on top of the fabric and stitches, does not get caught up in the stitching and can be easily removed.
Marking grid lines with marking pens is not recommended because of possible damaging elements in the ink.
Hoops and frames
There are several frame and hoop styles available.
Frames are available in floor or lap models. Go online to find the one you feel is right for you. Then go to your needlework shop to see if they carry it or order it online.
Hoops are available in all needlework departments and needlework shops. There are round ones and square ones available in various sizes. The Morgan No-Slip Hoop is top-of-the-line with a patented tongue-in-groove design which holds the fabric firmly in place and leaves less of an imprint on the fabric.
Lights and magnifiers
There are many, many styles and types available, and no particular type is right for everyone. There are magnifiers with lights, table and floor models, clip-on models (either on the hoop, on headbands, or eye glasses), magnifiers to wear around the neck, etc.
Needles
Tapestry needles are used for stitching on even-weave fabrics. They have a blunt tip with a large oval-shaped eye and slip easily through the holes without damaging the fabric. The size of the needle is determined by the stitch count of the fabric. They are available in sizes 22, 24, 26 and 28. The lower the number of the needle, the larger it is. As an example, needle sizes 24 and 26 are appropriate for 14 and 18 count fabrics.
Scissors
Use a small, sharp scissor made especially for needlework. There are many to choose from online or in needlework shops. You can also find lanyards for your scissors so you can hang them around your neck, or you can make your own from soft ribbon.
Stitches used in cross stitch
There are four basic stitches used in cross stitch designs:
Full cross stitch – an x-shaped embroidery stitch
Half stitch – a stitch made without the top stitch
Quarter stitch – resembles a half stitch, but it is stitched into the center of a square
Three-quarter stitch – composed of a half stitch and a quarter stitch
Back stitch – used to make lines around stitches and to stitch letters and text
Storing finished projects
Use acid-free tissue paper to wrap your finished pieces in if they will be stored for awhile.
Support gloves
These are made to support your hands during stitching and reduce muscle cramping and stress. There are several on the market; two examples are Hand-AidsGloves and Crafter's Comfort.
Thread conditioner
Thread Heaven is a product developed to extend the lifetime of thread and the finished project: cuts down on the stress and drag of your floss, helps multiple strands of floss lay smooth, protects against UV rays, mold and mildew, reduces tangling and knotting, can be laundered and ironed without staining, is acid free and non toxic.
Tweezers
Tweezers are useful in pulling floss through fabric if you are using four to six strands of floss in your project.