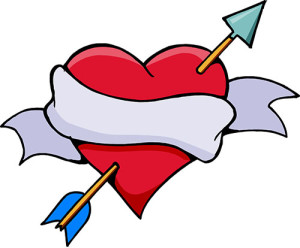 Wow! It's almost time for that special day when we send our love to the very special people in our lives, whether it be our lovers, mates, children, siblings, friends . . . anyone who is very, very important in our lives. Sometimes these people don't know how special they are to us or how they have influenced our lives, so this is a perfect way for us to let them know.
Valentine's Day has been celebrated since A.D. 270, and today the giving and exchange of Valentine's Day cards is second only to the exchange of cards during the Christmas holiday. The Greeting Card Association estimates 1 billion Valentine's Day cards are sent each year. This makes Valentine's Day the second largest card-sending holiday of the year. The estimate is that there are 2.6 billion cards sent at Christmas, and women purchase approximately 85 percent of all Valentine's Day cards.
So how did Valentine's Day originate? The origin is shrouded in mystery but is basically based on the legacy of both Christian and ancient Roman traditions and Saint Valentine.
Although there are many legends associated with Valentine's Day, one legend is based on the fact that a priest named Valentine served during the third century in Rome. During that time, Emperor Claudius II concluded that single men were better soldiers than those who had wives and families. Based on that assumption, he outlawed marriage for young men. Priest Valentine realized the decree was an injustice and defied Emperor Claudius by continuing to perform secret marriages for young lovers. However, when Emperor Claudius discovered this, Claudius ordered that Priest Valentine be put to death.
Another story suggests that Valentine was imprisoned and may have been killed for helping Christians escape from Roman prisons where they were harshly beaten and tortured.
According to legend, while Valentine was imprisoned, he sent the first Valentine greeting to a young girl who visited him while he was confined and who he had fallen in love with. Before his death it is thought that he wrote her a letter signed "From your Valentine," which is an expression of affection that is still used today.
Although the truth about the Valentine legends is quite murky, Valentine is still considered to have been a very sympathetic, heroic and romantic figure and has become one of the most popular saints in England and France.
There is also a belief that Valentine' Day is celebrated to commemorate the anniversary of Valentine's death and burial which occurred in the middle of February. Others claim that the Christian church placed Valentine's Day in the middle of February to Christianize the celebration of Lupercalia which was a pagan fertility festival dedicated to Faunus who was the Roman god of agriculture and to the Roman founders Romulus and Remus.
It really doesn't matter what the real truth is. We have come to embrace February 14 as a very special day, and we look forward to it every year.
It is thought that Americans may have begun exchanging hand-made valentines as early as the 1700s. Esther A. Howland, known as the "Mother of the Valentine," began selling the first mass-produced valentines in America the 1840s. She made elaborate creations with actual lace, ribbons and colorful pictures which were termed as "scrap."
As early as the middle of the 18th Century, tokens of affection or handwritten notes were commonly exchanged by friends and lovers of all social classes. By 1900 the written letters were replaced by printed cards, and when the printing technology improved, it was easy for people to exchange ready-made cards to express their emotions. The postal rates became cheaper which also increased the popularity of sending Valentine's Day greetings.
Despite the mystery surrounding the origin of Valentine's Day, we have a day when we can express our love and special feelings for our loved ones. And we do know that it is alive and well in the United States, Canada, Mexico, the United Kingdom, France and Australia.