There actually are many, many, many ways to do and use cross stitch projects. Here are some ideas for you.
1. Simple and small
This could be for the beginner or for the very experienced needleworker.
At the moment I'm thinking about making 4-inch-square coasters from a small design I fell in love with (only two or three colors). I'm not able to find any way of enclosing them in a protective case, so I'm going to make them "washable" with a nice complementary fabric to back the stitched piece, and I will insert a thin piece of quilt batting to give the coasters firmness. I think a fine cording around the coaster would add to "the look," as well. You can use a monogram for a design, your favorite quotation, etc. If I were getting married, I would love to get monogrammed "stitched with love" coasters as a wedding gift!
Another "simple and small" idea would be doing just a part of a larger design. I took the Abstract Seashell design we have in the Home Décor section of our website and did just one of the seashells on 11-count Aida cloth using six strands of floss. I did the background as well as the seashell, and it looks beautiful – looks like needlepoint. I will use it as a small pillow tucked into a corner on a shelf, in a bookcase, or I may decide to do several of them on 14-count (using 3 strands of floss) and put them in a basket in one of my bathrooms.
2. Enhancing your design with beads
This is an exciting way to add beauty and dash to any cross stitch design.
This will take some planning, but it's a wonderful way to accent a part of a design. As an example, the design, Affiche Pour le Salon des Cent, in the fine-art section of our website under artist Paul Berthon, would look incredible if the band on the model's head were done in beads.
This is just one idea. I'm sure as you look at the projects you are doing, or planning to do, it might spark something you had never considered.
3. Quick and transportable
Sometimes it's good to have a "pick up and go" project going that you can work on during your lunch hour, when you travel, long waits in the doctor's office, etc. You will need a project that is small enough to fit in your bag, does not need a lot of concentration and has just a few colors. There are three designs in our Home Décor section that would work great for this – Irish Knot, Zig Zags and Greek Key. These three designs can easily be divided into quarters so you can do just a portion of the design, the charts are easy to read, and they require only two or three floss colors.
4. Just getting started?
If you are just getting started in cross stitch and want to do something other than the cutesy "hearts and teddy bears," look for simple, geometric type designs that don't have a lot of floss colors and have charts that are easy to read. You will find several designs in our Home Décor section that would fit this category.
Here's some tips to help you get started correctly and give you a project you'll be proud of.
Use 14-count Aida cloth – you can move into the 18-count when you have more experience. Cut the piece large enough so there is a 3-inch margin on each side of the design. This will allow you to always have enough fabric around your design when you put it into your hoop, and if you're going to frame it, you will have the extra margin you need.
Put grid lines on your fabric to correspond with the lines on your chart – every 10 squares, vertically and horizontally. We recommend using Easy-Count Guideline by R&S Designs, Inc. You can eliminate a lot of "counting" time with this.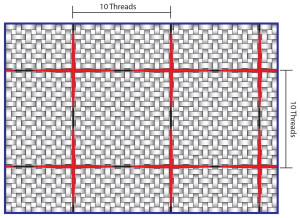 Wind your floss on floss bobbins and write the color number on the bobbin.
Use two strands of floss. Always separate the floss strands to get nice, even stitches.
Use a small to medium size hoop.
Start in the upper left-hand corner of the design.
Cross all of your stitches in the same direction.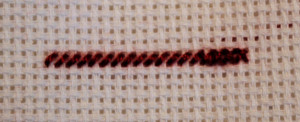 Leave a one-inch tail of floss on the back of the fabric and stitch your first few stitches over it to secure it. As you move along in your design and are starting a new piece of floss, you can weave the tail under stitches you have already completed. Always secure the end of your floss by weaving it under the stitches you have made.
Wash your hands often when you work on your project. This will keep your piece clean.
You can find more detailed instructions on our website. And, if you have questions or need more help, just send us an email.
5. Designs developed from photographs
Cross stitch designs developed from top-quality photographs are stunning. We have several of these designs on our website under the "Photography" category and have license agreements with award-winning photographers. They differ from paintings in that they are very realistic, and your finished piece truly looks like a photograph in tapestry style.
6. Working multiple projects
If you get bored with a cross-stitch project you are doing and want to start another, that's okay. Many of us do that. Or we just like to have several projects of different types and levels to work on at the same time. You may have one that you can do only at home because of the complexity, but you want to have something you can take with you when you travel, etc.
It's easy to have several projects going at the same time if you do one important thing. If you're going to put a project away for awhile, you must leave notes with your project as to where you left off, where you should start when you come back to it or any important info that would make it easier to get back into the project. You may think you'll remember everything, but chances are you won't.
Cross stitch is pleasurable and relaxing. It is also a very versatile form of needlework, and there is no end to ideas for using the finished projects. Share your great ideas with us and our Serenity Stitchworks community. We welcome photographs of your project in process or your finished project.